Today sees the start of Business Week 2008 in Yorkshire and the Humber.
One of the highlights for us at Language is Everything comes on Monday, when Carolyn Burgess (our chief exec) takes part in an "Are you smarter than a CEO?" quiz hosted by BBC Radio Humberside's Blair Jacobs. Carolyn will be pitting her wits against a group of sixth-form students, along with Terry Hodgkinson (the chair of Yorkshire Forward), Colin Brown (CEO of The Deep Business Centre) and Malcolm Fallen (CEO of the KCOM Group PLC).
We're also marking the start of Business Week by publishing our 2008 interim report: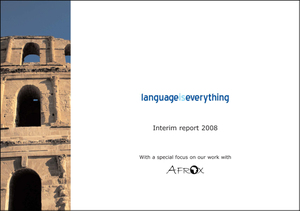 Download Language_is_Everything_interim_report_2008.pdf
The main focus of the report is our association with AfrOx, a new organisation working to improve cancer prevention and control in Africa. We provide a one-page briefing on AfrOx in each of the official languages of the African Union (English, Arabic, French, Portuguese and Swahili), and we ask what role the private sector has to play in the development of Africa.
Moving further afield, we take a look at the global strength of the English language (and the 'hidden dangers' this creates for monolingual English-speakers), and we present our financial results for Q1 2008.
You can download a PDF version (750 KB) of the report using the link above, or please contact us to request a printed copy.