Will 2010 be the year when English-speaking people stop saying "two thousand and X" and start saying "twenty Y"? In theory, we should already be saying "twenty oh nine" — but theory rarely applies when it comes to language. Some academics think the changeover will happen in 2010; other experts predict 2011, 2013 or 2020...
In the meantime, here are some of our favourite photos from 2009 that we never got round to adding to our blog.
In June we were the main sponsor of Business Week, a five-day festival of 'can do' culminating in the Yorkshire International Business Convention in Bridlington. One of the highlights of the week was The Language is Everything Challenge. We gave three contestants — a business guru, a broadcaster and a student — twenty minutes to learn a new language from scratch, with intensive one-to-one coaching from three of our linguists. The photo below shows Tim Sanders, the bestselling American author and speaker, and Coco Zhao, one of our senior Mandarin linguists, just before Tim successfully phoned a branch of McDonald's in Beijing and found out what time they closed — without using any English!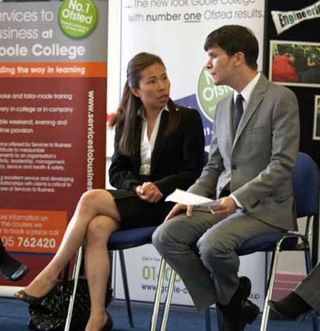 In October we ran an Interpreting Mental Health training course with Central and North West London NHS Foundation Trust. As Dawn Bowes, our senior account manager said, "Mental health work is very complex, and the role of the interpreter is crucial to patient well-being." Our photo below shows some of our interpreters after a session at the Gordon Hospital. Dawn is front row, second from left, and Gillian Trainor, the lead nurse at Brent Mental Health Services, is fourth from left in the front row.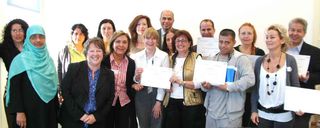 Carolyn Burgess, our chairman, went to Abidjan, Côte d'Ivoire, in May and October this year. The purpose of her trips was to help build links between the UK and francophone Africa in the areas of trade, healthcare and education: Carolyn is a board member of AfrOx, an organisation working to improve cancer prevention and control in Africa, and she is also involved in the work of the Victoria Climbié School in Abidjan. Our photo shows Carolyn meeting Jean-Louis Billon, the president of the Côte d'Ivoire Chamber of Commerce.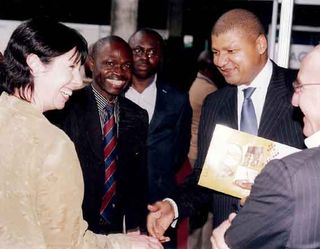 Happy New Year from everyone at Language is Everything!