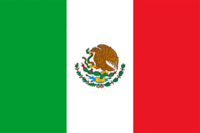 Should BRIC — the acronym that groups together the fast-growing economies of Brazil, Russia, India and China — be BRIMC? Jim O'Neill, the Goldman Sachs economist who coined the term in 2001, has always said that Mexico has the potential to become as big as the BRICs.
According to a 2007 study by Goldman Sachs, the world's top 10 economies in 2050 will be:
China
United States
India
Brazil
Mexico
Russia
Indonesia
Japan
United Kingdom
Germany
Tomorrow, the World Trade Centre Hull & Humber will be hosting a "Mexico Matters" event from 2pm to 5pm. The line-up of speakers includes John Franck, the head of trade and investment at the British embassy in Mexico City. Language is Everything will be there, too, along with our WTC partners such as UKTI and Andrew Jackson solicitors.
Click here to find out more.