17-year-old Hayley Downes, a member of our operations team in Howden, was in the Goole Times recently after gaining a Level 1 Certificate from the British Safety Council. Hayley joined us last year through an apprentice scheme run by East Riding Training Services (ERTS), part of East Riding of Yorkshire Council.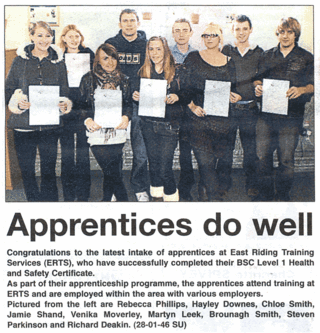 "It's a good scheme," said Hayley, who is working towards a level 2 NVQ in customer service. "I'm learning new skills every day in different areas of the business, and it's going to lead on to great things."
Language is Everything has been working with ERTS for a number of years (see here and here).