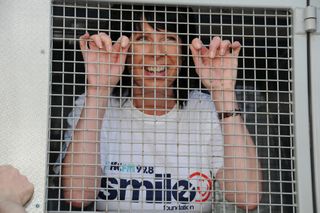 We're delighted to report that Carolyn Burgess (our chief exec) smashed her fundraising target and successfully bailed herself out of Hull Prison yesterday (see our blog post below).
"It was an amazing experience and a real learning curve", said Carolyn, who was 'arrested' by the KCFM Smile Foundation, which provides support and grants to organisations in need.
"I'd like to say a big thank you to the governor and everyone else at Hull Prison who helped organise this fundraising event. I'd also like to say how incredibly impressed I was at the way the governor and his superb team of staff run the prison.
"I would also like to say a huge, huge thank you to everyone who made a donation yesterday. I know that a lot of you will be disappointed to see me released! But we raised a lot of money for two fantastic charities: thank you again."