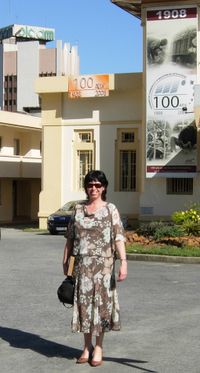 Carolyn Burgess (our chief exec) has returned from a fact-finding mission to Abidjan, Côte d'Ivoire.
One of Carolyn's key issues was international trade — how can the UK's business links with francophone Africa be developed? — and she held talks with Mamadou Sarr, director-general of the Ivorian Chamber of Commerce, and Idrissa Fofana, chief of staff at the ministry of industry.
Healthcare was another area of focus — Language is Everything supports AfrOx, which focuses on cancer prevention and control in Africa — and Carolyn met with Professor Danho Simplice Anongba, director-general of the health ministry, and Dr Amalado Ayemou, head of the national cancer programme.

Carolyn also met Rachel Gogoua, president of National Organisation for the Child, the Woman and the Family (an NGO that has been one of the driving forces behind the Victoria Climbié School), and Philippe Delanne, the Côte d'Ivoire representative for the United Nations Population Fund.
You can read more about the background to Carolyn's trip in our annual report, which was published earlier this month.
Click here to download a copy of the report (PDF, 700KB)